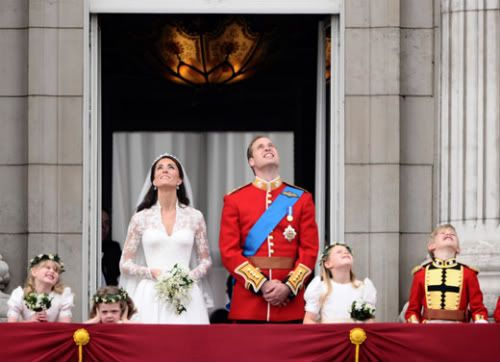 "The royal wedding was being mentioned around 67 times a second on Twitter as viewers took to the social network to publish their thoughts on the marriage of Prince William and Kate Middleton. On Facebook the wedding was dominating status updates, with around 74 mentions every second." (
The Telegraph
)
We all knew this day would be a big deal but it was bigger than I thought...massive, extraordinary, BIG STUFF.
Kate's dress was designed by Sarah Burton, the creative director of Alexander McQueen. She picked a similar silhouette to the infamous dress of Grace Kelly. Anything lace and my mouth drops. I thought she looked stunning.
Who wouldn't want to wear an "iconic wedding dress" on their big day?
The most beautiful moment of the ceremony was when Prince William was standing at the altar & Prince Harry whispered to his brother, "She is here now" as Kate appeared. After she made her way down the aisle, Prince William told her, "You look beautiful."
P.S. Prince Harry + that smile = trouble
And may I introduce the royal wedding's craziest hat ladies!